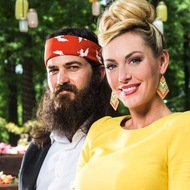 On the day of her twelfth wedding anniversary, Jessica reveals how she & Jep keep their marriage strong — and how you can improve yours!
There's so much to love about the cast of Duck Dynasty – everyone is pretty much like the cast of the classic '80s soap Dynasty, yet way classier — but what we appreciate the most is how much everyone seems to genuinely love one another. Now, Jessica Robertson, devoted wife of Jep Robertson, is sharing the secrets to keeping her marriage strong.
Jessica Robertson: Her Secrets For A Happy Marriage
In a blog post for A&E, the lovely Jessica recalls meeting now-husband Jep at their "mutual hair stylist" in Feb. 2001 — yeah, we can't believe the same person does both of their hair, either — and marrying him just eight months later.
Since tying the knot, Jessica and Jeb have raised a happy family – Lily, 10, Merritt, 8, Priscilla, 6, and River, 4, make up their burgeoning brood — and have managed to keep their marriage full of love.
Here are Jessica's four key secrets to maintaining a strong marriage:
1. Be Loyal to Your Spouse
Be committed to each other, even when it seems like the rest of the world views commitment and loyalty as a thing of the past.
2. Forgive Your Spouse
When I struggle with forgiveness, I think of how God forgave me by not holding the past against me. Then I can't help but forgive. Never be too stubborn to say, "I'm sorry."
3. Respect Your Spouse
Showing respect can make or break your spouse's confidence. A look, a smirk, a rude comment, even the tone of your voice can speak volumes. Build up your spouse; don't bring him or her down.
4. Cherish Your Spouse
We sometimes forget to nurture the relationships with our spouse the way we do with our children. We get so busy being a mom or dad that we lose sight of this very important need. Go above and beyond to spend as much quality time together as possible. Jep and I try to go on a date a week and it has really helped keep our relationship strong.